Advisory
When it comes to solving problems and managing the business, many companies are so busy keeping the lights on that they can't see the big picture. Integral Partners has designed our advisory services to evaluate your company's needs and capabilities, provide expert advice, and help you make successful, confident decisions. We partner with you to assess your unique IT security landscape and develop options that meet your current needs while anticipating future demands.
Providing an Identity and Access Management (IAM) solution for your organization is a powerful step toward improving IT security, enhancing compliance, reducing risk, and realizing cost savings. Integral Partners takes a real-world, multi-phased approach to IGA that ensures we prioritize your IT security demands and integrate systems and processes with your existing infrastructure.
SPONSORSHIP HIGHLIGHT
Gartner Identity & Access Management Conference 2023

Integral Partners once again sponsored and spoke at the Gartner IAM conference, which took place this year the Gaylord Texan Hotel & Convention Center in Texas. Our Identity practice leaders and senior technical consultants helped attendees explore practical approaches to Identity, budgets, resource needs, and best practices.
Speaking Time: 5:45PM in Theater #1
Booth Number: #116
Let's meet! If your organization is considering implementing or improving an IAM solution, let's schedule a short call to understand your IAM priorities and.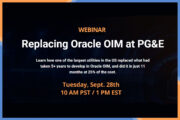 WEBINAR REPLAY Learn how PG&E successfully replaced Oracle OIM Oracle IM was one of the first premier magic quadrant identity
Full Article »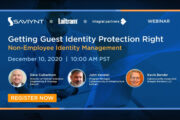 WEBINAR REPLAY:  In today's environment, organizations change dynamically to protect their business assets, secure a transient workforce, and meet the
Full Article »
Here's what our customers are saying
I wanted to take a second to say how incredibly impressed we are with Integral Partners' performance on the 2 recent professional services engagements. Your consultant is knowledgeable, professional, and overall great to work with. Integral Partners continues to deliver a high caliber of consultative services that have been invaluable to our company and for that we thank you! Thank you Integral Partners and happy new year all!
- Director – IT Security (Governance, Risk, & Compliance)
Integral Partners brought deep IAM experience and was able to bring to light all areas of Cloud security we needed to consider. They were the key cog that brought everything together to deliver a successful project.
- Director of Enterprise Applications
Integral's Advisory and Services Practices have been great partners. Capitalizing on their expertise and industry knowledge has allowed us to establish and grow our own IAM program and has set us up for more success in the future. Without their help we would not be where we are today.
- CISO, Financial Services Firm
Integral Partner has been with us since day one of our Identity access management and governance Journey. They are undoubtedly the reason we have gone from ground zero to what is considered a best in class program across the financial industry. We look forward to the future success that our partnership will certainly bring.
- VP, Security Services, Financial Services Firm
Overall I was highly impressed with Integral's approach, level of expertise, professionalism and integrity. All interviews were strategically planned and appropriately focused to participant level. Integral knew exactly what information was needed, where to get it most efficiently and how to best foster knowledge transfer in a highly complex environment. In 20+ years of information security leadership I have rarely found an advisement firm with as much detailed industry knowledge within their space. Integrals' work ethic and deliverables were impeccable.
- Senior Director Information Security, Healthcare Organization