A New Path to Flexible, Economical Identity Governance
While the need for rigorous Identity Governance and Administration (IGA) capabilities is well understood, organizations frequently struggle to implement and support an effective IGA solution. The concerns include the lack of needed skills within the organization as well as the often unpredictable costs for system customization.
Integral Partners offers a new way forward: A subscription that makes use of the robust SailPoint IdentityNow platform on a Software-as-a-Service (SaaS) basis. Our approach enables customers to overcome traditional obstacles with a complete, turnkey IGA service subscription with support included.
The need for IGA vs. the pain of acquisition and implementation 
IT managers and their counterparts in security and compliance need a viable IGA solution. Staying on top of access permissions can be challenging even in simple environments. Today, as IT spreads to the cloud, mobile devices and a host of remote work scenarios, the requirement for IGA grows all the more urgent. Yet, IGA adoption lags.
The obstacles to realizing this objective include the cost and complexity of IGA acquisition and implementation. Companies that want IGA have traditionally been forced to make capital investments (CapEx) for hardware and software licenses. They then can face the significant implementation costs. IGA invariably needs professional services during the setup phase. Additional costs can also emerge in the form of software upgrades and maintenance.
Furthermore, unpredictable implementation schedules and inflexible deadlines can cause organizations to rush into poorly thought-out IGA workflows and processes that don't follow best practices. This tends to stretch the limits of in-house skillsets and time to value is then often delayed or never realized at all.
Solving the problem: Our expertise and ongoing support for SaaS IGA
We are now offering SailPoint's IdentityNow for IGA as a service that bundles software, setup services, deployment and support. Our IdentityNow-Implementation-as-a-Service is a subscription that combines SailPoint's industry-leading cloud identity platform with our proven implementation services and support. The customer does not have to independently purchase SalePoint licenses and professional services – they are included in the subscription price. This approach reduces time to value and keeps things predictable.
The initial subscription fee includes setup of IdentityNow and account provisioning integration with up to five systems, such as Workday, Zoom, Slack, Azure Active Directory, Google Apps, SAP, Dropbox, Microsoft Exchange and others. From there, the ongoing subscription includes the configuration of additional IdentityNow capabilities, including integration with additional apps (per the entire SailPoint connector library), access certifications, and access request.
There are no commitments to specific contracts, systems, or recruitment and retention of experienced IGA professionals, allowing for total flexibility. We do the work of configuring, maintaining and supporting the solution, which ultimately provides the IGA capabilities that are critical to securing the organization, but at a cost of up to 40% less than traditional on-premise IGA projects.
Benefits of IGA on a SaaS basis 
SaaS IGA confers many benefits on organizations that embrace it. With IdentityNow-Implementation-as-a-Service, the elapsed time between ordering the subscription and operational launch is far shorter than is required for traditional on-premises deployments.
The benefits include:
Uncertainty about the implementation timeline is much reduced.
There is minimal on-prem infrastructure to acquire and maintain.
The platform was created based on best practices. It includes the most common IGA cases, which reduces the need for complex customizations.
The customer only pays for delivery of IGA functionality that's needed.  That includes provisioning, certification, access request and workflow approvals.
The benefits of the IdentitiyNow intelligent cloud platform include:
Security—SailPoint's SaaS delivery solution is compliant with SOC II certifications. Their security practices and controls keep evolving in alignment with changes in the threat landscape.
HA/DR—The solution is performance tested, providing High Availability (HA) and Disaster Recovery (DR) as a built-in element of the subscription service.
Multi-tenant—SaaS applications run all users on the same Microservices code-base. This means individual businesses gain the benefit of every feature or security enhancement as soon as it is available, but they do give up the ability to customize the solution for specific proprietary needs.
The Advantage of Working with a SailPoint Admiral Partner 
We are a SailPoint Admiral Partner that has performed many successful implementations of IdentityNow. Our team has over 20 years of experience in implementing and supporting IGA solutions. Identity is what we do.  It's all we do.
The Admiral Partner designation is only for a select few SailPoint partners who have demonstrated a high level of proficiency on the platform. The credential is part of what makes us uniquely qualified to help you with your IGA journey to the cloud.
Click here to learn more about our new IdentityNow-Implementation-as-a-Service subscription offering.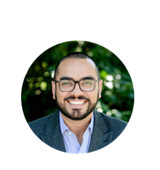 David Oaxaca
David is a Director of the Cloud Identity Governance and Administration (IGA) practice at Integral Partners. He brings over 18 years of software development, cybersecurity, access enforcement, IAM, and IGA consulting expertise across organizations and verticals. David is primarily responsible for leading the Cloud IGA practice, focused on delivering emerging and innovative cloud-based IGA solutions.