Gartner IAM Summit
Survey & Workshop Offer
Take our short 3 minute survey for a chance to win a full conference pass to the Summit on May 11 – 12. We're also offering a free workshop focusing on the top 2021 IAM priorities as outlined by Gartner.
Take our 8 Question IAM Survey and Enter to Win a Full Conference Pass to the Gartner Summit (or other great prizes)

..)
This is our seventh straight year at the Gartner Identity and Access Management Summit. Identity is our sole focus, so we work hard to ensure we have our finger on the pulse of IAM. Lend your voice through this short survey, and you'll be automatically entered to win some great prizes as our way of saying thanks.
 ⦿  1st & 2nd Prize: Full conference pass to the Gartner Summit ($1,450 value)
 ⦿  3rd Prize: $100 Amazon gift card
 ⦿  4th – 8th Prize:  Invitation to a special Whiskey Tasting Event after the Summit

*Offer ends 4/16/21 or after the first 100 responses – whichever comes first
Free Workshop: Learn how you can address the top IAM concerns from the 2021 IAM Summit (and the essentials of an Identity program)

The goal of the Gartner Summit is to empower you to make sure you have the tools and insights you need to deliver effective IAM in the new normal of 2021. This Integral Partners workshop is designed to help address the challenges and opportunities outlined at the event, and get you on the road to a solid roadmap.  The workshop will be tailored to fit your specific areas of interest, but the topics can include:  
 ⦿  Drive digital transformation – adapt to rapid technology and organizational change
 ⦿  Elevate your strategy – cloud migration and the fast emergence of multicloud
 ⦿  Remain future-focused – stay competitive, explore the latest solutions
 ⦿  Navigate IAM – understand IGA, PAM, AE, hybrid, cloud, MFA…
 ⦿  Drive standardization and automation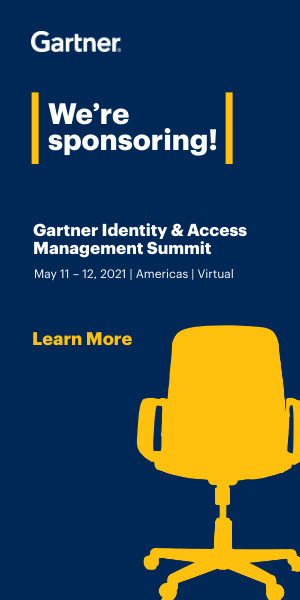 Need IAM help? You've come to the right place.
By the end of the workshop, you will be able to clearly articulate and understand the main IAM processes and technologies used today, how they interact, and how to approach a strategy development project.
You'll also understand the SailPoint landscape and how to make informed decisions moving forward.
The easiest way to get started is to have a short conversation with one of our IAM experts.  They have years of experience helping organizations get their IAM program right – from early education like this workshop, to implementation and support.  They'll answer any questions you have and get you scheduled for a workshop if that makes sense.  Just use this form to schedule a short conversation.