MEETINGS – SURVEY RAFFLE – FREE WORKSHOP
CSO50 Conference + Awards
2021 Sponsorship
We're celebrating our CSO50 2021 Sponsorship with raffles, strategic meetings, and a free workshop focusing on top IAM priorities outlined at the conference (Zero Trust+).
Ready to discuss your IAM priorities during the CSO50?
Integral Partners will again sponsor and speak at the CSO50. Our Identity practice leaders and senior technical consultants  are available before and during the conference to explore practical approaches to Identity, budgets, resource needs, and best practices.  If your team could benefit from these areas and are interested in learning more, let's schedule time for a phone introduction prior to the summit to understand your IAM priorities and coordinate a time to connect with your team.
 ⦿  Strategy and Roadmap Planning
 ⦿  Free IAM Workshops:  IAM Essentials, PAM, Zero Trust, Vendors…
 ⦿  IAM Services: Advisory, Implementation, Integrations, Migrations
 ⦿  The Identity Ecosystem: GRC, IGA, RBAC, PAM, AME, CIAM
 ⦿  IAM Managed Services: Staff IAM experts backed by years of experience
 ⦿  Technical Expertise: Admiral Certified SailPoint Partner, two-time CyberArk Services Partner of the Year, and elite Saviynt, SecZetta, Ping, and Okta partners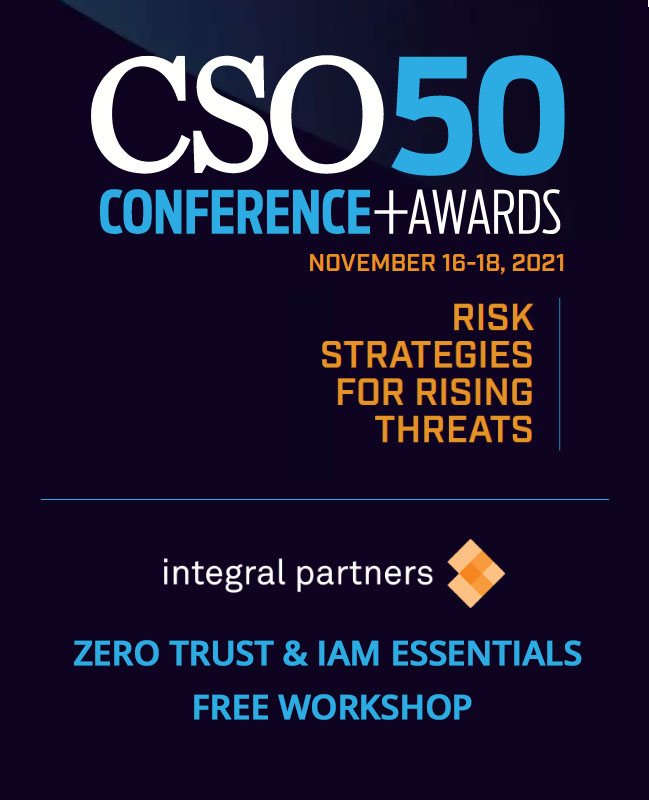 Take our 7 Question IAM Survey and Enter to Win a $200 Disney/Amazon Gift Card or other Prizes
As part of our CSO50 promotions, we've created a survey to ensure we have our finger on the pulse of IAM. Lend your voice and you'll be automatically entered to win some great prizes as our way of saying thanks.
 ⦿  1st Prize:  $200 Disney/Amazon gift card
 ⦿  2nd Prize:  $150 Disney/Amazon gift card
 ⦿  3rd Prize:  $50 Disney/Amazon gift card
 ⦿  4rd Prize:  $50 Disney/Amazon gift card

Free Workshop: Address the top IAM concerns from the 2021 CSO50 Conference (including Zero Trust)

The goal of the CSO50 is to enable CSOs and CISOs to drive positive business outcomes with successful risk mitigation strategies. This Integral Partners workshop is designed to help organizations understand how that can be accomplished through Zero Trust and IAM.  The workshop will be tailored to fit your specific areas of interest, but the topics can include:  
 ⦿  Strategy & Leadership – Learn how to develop a ZT and IAM strategy that's agile and secure
 ⦿  Zero Trust – Learn it's history, building blocks, architecture and best practices
 ⦿  Technology– Understand the potential of modern and emerging technologies
 ⦿  Insight – Develop knowledge around cloud, IAM trends, AI and more
 ⦿  2022 Impact – What do recent vendor announcements mean to your program?
 ⦿  Navigate IAM – Understand IGA, PAM, AE, hybrid, cloud, MFA…

Let's talk about Identity!
Need help understanding and implementing the topics covered at the CSO50 or other 2022 initiatives?  Facing other IAM issues that you could use help with?
The easiest way to get started is to have a short conversation with one of our IAM experts.  They have years of experience helping organizations get their IAM program right – from early education and workshops, to implementation and support.  They'll happily answer any questions you have.  Just use this form to schedule a short conversation or drop 15 minutes on our calendar here.